Stash Box Set Dimensions: 10.25 x 7.5 x 4.25 inches

100% marble construction

includes two airtight glass jars and one ashtray
lid self-centers with magnets and has hole for incense
anti-scratch padded bottom

Ships in 2-3 business days. Free returns in the US.
Give Cubbi a try for up to 30 days with free, easy returns.
A Masterpiece of Craftsmanship and Elegance!
Man, where do we even start with this one? The moment we laid our eyes on the Luxury Stash Box Set in Marble, we knew we were in for a treat. The design? Absolutely impeccable. It's clear that a lot of thought, passion, and precision went into crafting this beauty.
The feel of the marble is just... chef's kiss. It's smooth, cold to the touch, and exudes a sense of luxury that's hard to find these days. The color palette is a harmonious blend of earthy tones, making it a perfect fit for any setting, be it a modern loft or a cozy cabin.
Now, let's talk about Brandon. Dude's been absolutely obsessed with it. he can't help but rave about the stash box. He's been particularly taken by the intricate detailing and the weighty, substantial feel of the marble. It's become his go-to stash spot, and honestly, we can't blame him.
In a world filled with generic stash boxes, this piece from Cubbi stands out as a testament to what happens when art meets functionality. It's not just a stash box; it's a statement piece, a conversation starter, and most importantly, a reflection of the user's refined taste.
Big shoutout to the Cubbi team for creating something so timeless and elegant. You've truly outdone yourselves!
Stay lifted and keep crafting such masterpieces,
Brandon & Jesse
Cannabis School Podcast 🌿🎙️
Best Purchase of My Life
The quality of the manufacturing and attention of details makes this product so special. You get what you pay for 10/10
Wow doesn't even cover it!!
I will begin this review by stating that I don't normally leave reviews, but I'm one of those people that read everyone else's comments. I love rocks and all the things nature can produce naturally. This box is worth every penny… I was very hesitant at first to spend this much money on a box, but wow!! This thing arrived in packaging that was suitable to ship eggs across the country. Item was beautifully packaged and the product is absolute top quality!! It's a little heavy but, it's marble!! This thing will outlast me many times over. Two items that I feel could have made this an absolutely picture perfect transaction. First, I think Cubby should offer up a small battery powered light to include in the unit. This thing is just sick when you see a light glowing thru all that marble and natural beauty! The second is I would really liked to have gotten a product label or sticker so I could happy spread the word of mouth about their products. This is definitely a 5 star product… I was not paid or given anything to post this… just good ole me!
Awesome and unique product! But not perfect
I contemplated on buying the Marble Edition Cubbi for a couple of months, but decided to pull the trigger since it seemed like a very cool heirloom smoker accessory. Shipping took about a week and a half (longer than expected), but I was very excited when receiving the package.
The item was excellently shipped with ample padding and very premium packaging. I was tickled to see that my box was number 1/100 in the limited set!
The box itself was as beautiful as the product photos. A gorgeous marble pattern, and accessories that perfectly match. The box is surprisingly large and holds more than any storage solution I have had before. The box also feels very sturdy, even the lid which is thick enough to hold its own. It's so heavy that I do not foresee it leaving my coffee table very often.
All the praise aside, I do want to recognize a couple of small qualms. The inside of the lid is a beautiful polished marble surface, and the remainder of the box is a matte finish that while lovely, isn't quite as nice. Also the magnets that "center" the lid on the box are notably weak, acting as a meager force keeping the lid in place. Lastly and most notably, the felt on the bottom of the box is very cheaply adhered, and was peeling away from the bottom corners of the box prior to me even removing it from the packaging. Felt is also a poor solution overall since it would allow for moisture pooling underneath in a spill which would ruin the felt and possibly stain the marble. The only reason I did not send it back for this was because as I said earlier, I don't think it will be moving from the middle of my coffee table. Long term I may manually remove the felt and add rubber feet which I think would be more suitable.
The ultimate stash box
If you want a stash box to leave out in your house you can find no better option than the marble Cubbi. It's a beautiful marble box that is also super functional. Love the included ashtray and the large clear jars display the nugs in all their glory. Big enough to hold grinders, papers, snips and pipes but small enough to keep on your living room coffee table.
LIMITED EDITION
Luxury Stash Box Set
The marble stash box set is made from 100% marble (except the glass jars) and will last for centuries.
All stash box sets include 2 smell proof jars with marble lids. You can rest assurred knowing that all smells will remain inside the box.
The marble stash box set has plenty of extra storage space for lighters, glass items, and more.
marble ashtray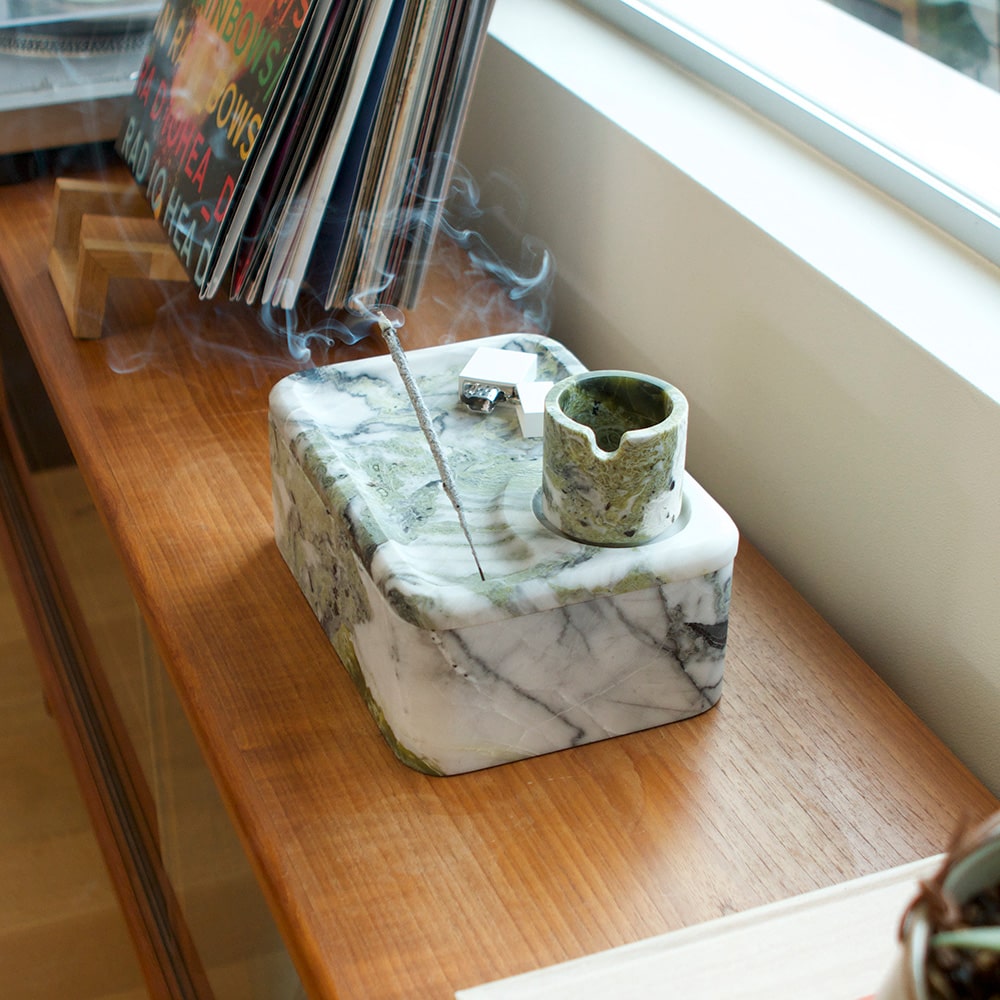 incense holder